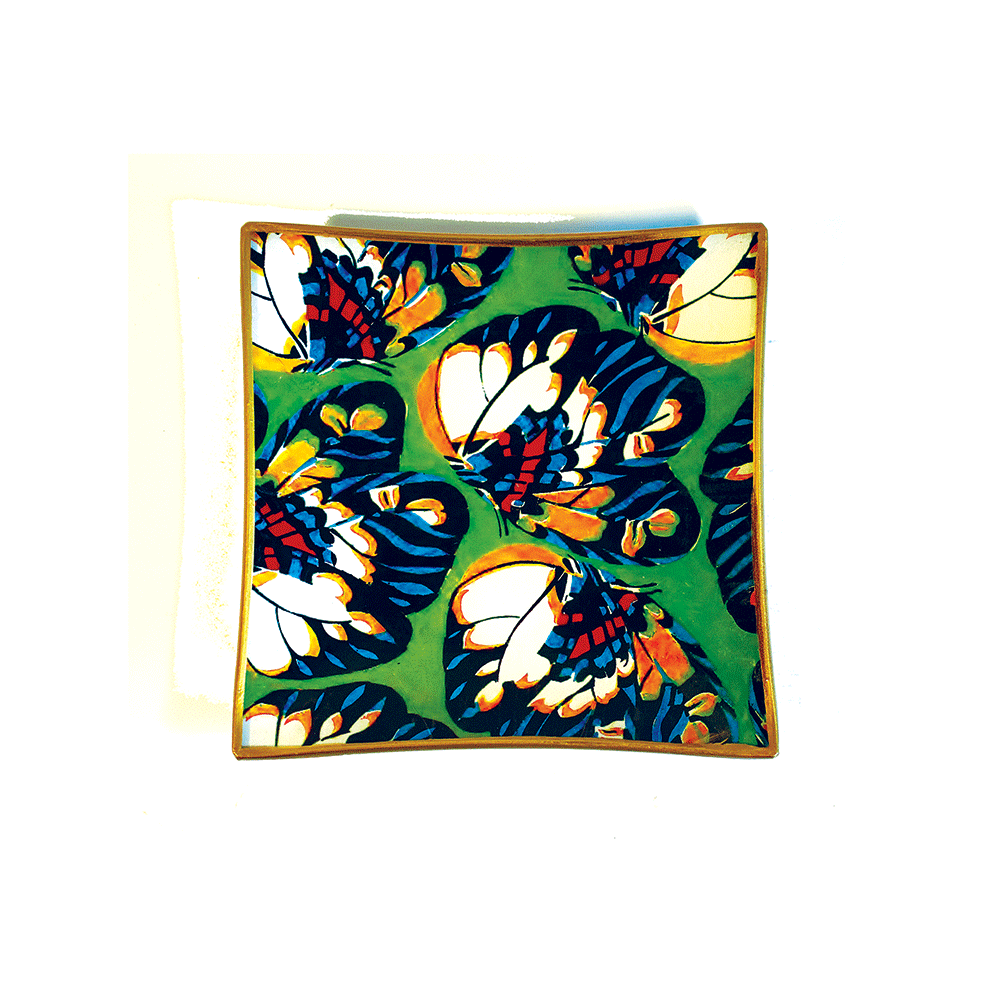 Green Butterflies glass tray
Eugène Séguy (1889-1985), was one of the most important French designers of the early 20th century, working primarily withing the Art Deco and Art Nouveau frameworks. He held a chair of entomology at the Muséum national d'histoire naturelle in Paris from 1956-1960. Known for his textiles work, he produced extremely rare portfolios featuring butterflies using the pochoir technique.

     Pochoir was a time-consuming process but resulted in deep, rich colors. The geometric designs of Art Deco were ideal for stenciling and the technique became something of a fad with French fashion publishers. Photography was often used to print the primary outline and then, the colors added with a brush through zinc or aluminum stencils. In the twentieth century it was used by artists like Kitaj, Warhol, Leger, Chagall, Georges Braque and Pablo Picasso. Currently the graffiti artists, especially in the US, Mexico and France have adopted this procedure with spectacular results. Geometric Art Deco designs were ideal for stenciling and technology became a fad with French fashion editors.

     In the potichomania process, the glass acts as both a foundation and protective finish, saving the step of varnishing. The original intent was to recreate Greek and Etruscan vases by simulating rare and expensive Sevrés porcelain.

©2018 Why Girls Go Astray. All rights reserved.
Details

This tray measures approximately 6x6 inches. The relative thinness of the tray – just over 1/8" thick – belies the complexity of the potichomania process. Each of our trays is comprised of a glass tray, three layers of 28# paper, four coatings of varnish, and finished with two coats, each of paint and clear acrylic spray. We've added a high-quality felt pad on the bottom in order to protect your home surfaces.


Care: Please spray with a gentle glass cleanser and wipe clean. Do not submerge in water. For decorative purposes only.

©Why Girls Go Astray. All rights reserved.